Love, love you true
Tuesday, January 4, 2005
1 John 4:7-10
Dear friends, let us love one another, for love comes from God.
Everyone who loves has been born of God and knows God. Whoever does not love does not know God, because God is love.
This is how God showed his love among us: He sent his one and only Son into the world that we might live through him.
This is love: not that we loved God, but that he loved us and sent his Son as an atoning sacrifice for our sins.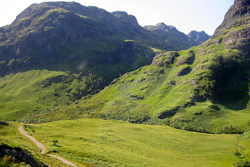 Love is an English word with several Greek equivalents. Here are some of them:
· Eros (ἔρως érōs): Romantic and sexual love (in ancient Greek, desire).
· Philia (φιλία philía): Friendship, "platonic" love.
· Storge (στοργή storgē) Familial love.
· Agape (ἀγάπη agápē): The highest, principled, self-sacrificing love that originates with God. Unconditional commitment.
The word John uses is "agape." God can be unconditional with his commitment; we cannot. We get sick, we get angry, we die. In one way or another, whether or not we intend to, we abandon each other. God can say, "I will never leave or forsake you," and it can literally be true. I can say no such thing.
So this love John describes that I can have for others: it is always grounded in the love God has for me. Mine is finite, limited ... and yet it is so much stronger than it would be without God's love that surrounds it and surrounds me. God's love changes me, changes especially my ability to love others.
Lest I think more highly of myself than I ought, however, there is 1 John 4:10. "This is love, not that we loved God, but that he loved us ..." In one of his many beautiful songs, Rich Mullins wrote:
When you love you walk on the water
Just don't stumble on the waves
We all want to go there somethin' awful
But to stand there it takes some grace
'Cause oh, we are not as strong
As we think we are
Thank you, Lord, for the changes you have made in me. But let me never stop depending on you. Your love is the source of everything.

";