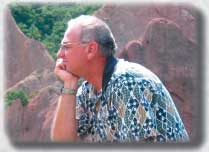 David Sandel is an ordained minister with an M.S. in Counseling. First as an elder at Waynesville Christian Church, then as a campus minister at the University of Illinois, and now with Christian Counseling Service, David has more than 30 years of experience in pastoral counseling and spiritual direction.
In Waynesville, David and his wife, Margaret, developed and implemented a program for training church members in listening and encouraging one another. He and Margaret have led small groups and participated in team counseling at Vineyard Christian Fellowship in Urbana and First Christian Church in Champaign.
David is certified in domestic violence counseling by Family Life Skills International and is a participant with the Transforming Center. He is a member of Spiritual Directors International and the American Association of Christian Counselors. Margaret
Margaret Sandel has been a teacher and is a certified spiritual director. She graduated from the Chiara Center School of Spiritual Direction, Springfield, IL, in 2013.