Devotions Archive
All things new
Monday, December 31, 2007
John 1:1-5, 14
In the beginning was the Word, and the Word was with God, and the Word was God. He was in the beginning with God. All things came to be through him, and without him nothing came to be. What came to be through him was life, and this life was the light of the human race. The light shines in the darkness, and the darkness has not overcome it ... And the Word became flesh and made his dwelling among us, and we saw his glory, the glory as of the Father's only-begotten Son, full of grace and truth.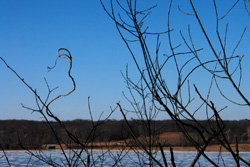 Out with the old, in with the new. 2007 will be breathing its last tonight. Father Time passes his torch to the new baby. Not marked by time but even more significant, as Paul said, "If any man is in Christ he is a new creature: old things are passed away; behold, all things are become new" (2 Cor 5:17).
Lori Borgman wrote beautifully about our new God-on-earth named Jesus:
Prior to Bethlehem, God had largely revealed himself through the spectacular. He made himself known through the creation, the flood, the plagues, the Passover, the parting of the Red Sea, the tablets of stone, the weight of the Law, the conquests of David and the proclamations of the prophets.

Again and again, God revealed himself as mighty and magnificent, awesome and thunderous.

In Bethlehem, though, it was as if He spoke with a softer voice. He shifted gears. He took on a form completely dependent and utterly helpless, that of a tender infant.

The one who hurled the stars into the corners of night and ordered the ebb and flow of the tides, was born as a babe to Jewish peasants in a small stable.

His earthly birth was accompanied by mounds of straw and the smell of livestock.

Splendor was exchanged for the ordinary, the crown of royalty for the sandals of a commoner.

Bethlehem is where God chose to become approachable. Touchable. Personal.
Lord, I celebrate today, a new day, the last day before next year, because you are with me, your rod and staff comfort me, you prepare a table in the presence of my enemies. And my cup runs over.

";