Not as the world gives
Saturday, December 29, 2007
Luke 2:29-31
"Lord, now lettest thou thy servant depart in peace, according to thy word. For mine eyes have seen thy salvation, which thou hast prepared before the face of all people."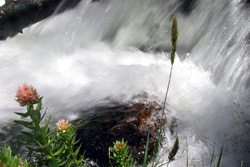 The fifth day of Christmas is marked with five golden rings, which bring no peace at all. As G. K. Chesterton remarked in his essay,The Gardener and the Guinea, "I am not interested in wealth beyond the dreams of avarice since I know that avarice has no dreams, but only insomnia."
Simeon had been waiting for this moment with baby Jesus for years and years. The eighth day of Jesus' life on earth brought Simeon great peace. Jesus later said, on the eve of his death on the cross, "Peace I leave with you; my peace I give you. I do not give to you as the world gives. Do not let your hearts be troubled and do not be afraid" (John 14:27).
Here is a tongue-in-cheek description of part of what Jesus has for us:
Be on the lookout for symptoms of inner peace. The hearts of a great many people have already been exposed to inner peace, and it is possible that people everywhere could come down with it. Under the right circumstances, inner peace could reach epidemic proportions. Some signs and symptoms of inner peace:

- A tendency to think and act spontaneously with love, rather than on fears which are based upon past experience.
- An unmistakable ability to enjoy each and every moment.
- A loss of interest in judging other people.
- A loss of interest in judging yourself.
- A loss of interest in interpreting the actions of others.
- A loss of interest in conflict.
- A loss of the need and even the ability to worry. (Please Note: This is a very serious symptom.)
- Frequent, almost overwhelming episodes of appreciation and gratitude.
- Frequent attacks of smiling.
- An increasing tendency to let things happen rather than make them happen.
- An increased susceptibility to feeling the love extended by others as well as the uncontrollable urge to extend it - An unmistakable feeling that everything is okay.
But the most important part of Jesus' gift, the "peace that surpasses understanding," is simply assurance of his eternal love and presence. There is nothing I or the world can do to change that. Even when I worry and frown and complain, Jesus doesn't change.

Because of you, Jesus, my fingers find and trace the lines on the face of peace. Thank you.

";