Resiliency
Thursday, December 6, 2007
Matthew 7:24
"Everyone who hears these words of mine and puts them into practice is like a wise man who built his house on the rock."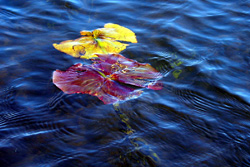 For several months this year our house on Lincoln Avenue in Urbana, Illinois has been torn up. After a torrent of melting snow poured right inside on a sunny day last February, we decided to stop putting off the repairs that have needed doing for years. The roof was old, the wood soffits on our house were rotten and squirrel-bit, and our front room ceiling was water-stained, sagging and torn. Windows didn't open, but they leaked air all around the edges.
Now winter is again crouching at our door. Tonight we should get a couple inches of snow. The air is Cold. But thanks to Ron Herron, Lyndall Propst and crew we aren't expecting any internal downpours for awhile. The windows are tight, the soffits are clean and new, and our house is pretty as a picture. Clean new walls, a bright white ceiling and woodwork that looks like poured maple syrup draw us into these old rooms instead of driving us away.
Upstairs one day I found a promotional card for a politician running for election in 1910. It was buried in the ceiling insulation. It had been there for a long time. In the 1940's this house was moved to its present site from a mile or so away. And now sixty years later it's been tightened up again. It has, I hope, new life for many years to come.
Our little bit of history here has occupied more than a third of our lives. But we've only been here eighteen years, while the house has been lived in for ninety-eight. And the earth it stands on has been stable for thousands of years.
Jesus has finished the longest teaching recorded in the Bible, which we call the "Sermon on the Mount." His words cut through confusion and call his listeners to a simple, unselfish, faithful life:
"Blessed are the merciful, for they will be shown mercy...

Go and be reconciled to your brother; then come and offer your gift to God...

If your right eye causes you to sin, gouge it out and throw it away...

Do not swear by your head, for you cannot make even one hair white or black...

If someone forces you to go one mile, go with him two miles...

Love your enemies...When you give to the needy, do not let your right hand know what your left hand is doing...

If you forgive men when they sin against you, your heavenly Father will also forgive you...

Store up for yourselves treasures in heaven, where moth and rust do not destroy...

No one can serve two masters. You cannot serve both God and money...

Do not worry about your life, what you will eat or drink. See how the lilies of the field grow. They do not labor or spin. Yet not even Solomon in all his spendor was dressed like one of these...

Seek first his kingdom and his righteousness, and all these things will be given you as well...

Do not judge, or you too will be judged...

In everything, do to others what you have them do to you...Enter through the narrow gate...

Watch out for false prophets" (Matt 5-7).
Matthew says Jesus "taught as one who had authority." His words were preceded and followed by action: "Jesus went throughout Galilee, healing every disease and sickness among the people" (Matt 4:23) ... Jesus reached out his hand and touched the man, and immediately he was cured of his leprosy" (Matt 8:3).

He practiced what he preached, he tells us to do the same, and we too will live our lives standing solid on the rock of God and eternity.

What else is there to do, Lord? Where else can I go? Why would I want to?

";