Who's in charge here?
Monday, December 3, 2007
Matthew 8:8:10
The centurion said, "Lord, I do not deserve to have you come under my roof. But just say the word, and my servant will be healed. For I myself am a man under authority, with soldiers under me. I tell this one, 'Go,' and he goes; and that one, 'Come,' and he comes. I say to my servant, 'Do this,' and he does it."
When Jesus heard this, he was astonished and said to those following him, "I tell you the truth, I have not found anyone in Israel with such great faith."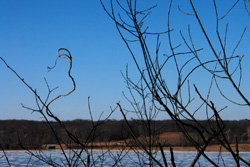 In his masterpiece The Road Less Traveled, Scott Peck says, "The problem of distinguishing what we are and what we are not responsible for in this life is one of the greatest problems of human existence. ... To (solve this problem) adequately we must possess the willingness and the capacity to suffer continual self-examination. And such capacity or willingness is not inherent in any of us."

Is that why Jesus "has not found anyone in Israel?" I have no doubt we were created to honestly seek the balance between our responsibilities (be fruitful, multiply and care for the earth) and God's (everything else). But something went wrong in Eden. Whispers from the shadows: "Did God really say THAT?" Doubts and desire for more of what we had plenty of (freedom) were grounds for the decision to challenge God. And just like that, we were lost.

Adam knew it. He put on his fig leaf and hid. God's voice drew him out, though, and for a moment anyway, Adam regained his honesty: "I heard you and I was afraid." But then a moment later, when God asked him if he'd eaten the forbidden fruit he quickly blamed Eve. And Eve quickly blamed the serpent. Thus they set the stage for our everyday re-enactment of the Blame Game. We either accept too much or too little responsibility, and crave too much or claim too little freedom. We're just as lost as Adam ever was.

Jesus took authority over disease and demons, and the centurion recognized power he did not possess. Jesus was God, and he was not. His first response was to worship and surrender; and out of His bounty God gave this man exactly what he needed. In this moment with Jesus the natural order of God's universe was clear and in place.

Every morning noon and night I face the same fearsome choice of the centurion: can I give what I love the most into the hands of the God who made heaven and earth? Or do I hold on tight to it like some selfish monkey, never letting go, hands shut like blind fists to the generosity of my Father?

So much of my misery, Lord, is of my own making. All of it? Open up my clamped hands, release the paralysis of my fear with your love, your smile, your touch. Your love endures forever.

";