Loved ones
Sunday, May 20, 2007
Ephesians 1:18 and Revelation 22:13, 17
I keep asking that God may give you the Spirit of wisdom and revelation, so that you may know him better. I pray also that the eyes of your heart may be enlightened in order that you may know the hope to which he has called you.

I am the Alpha and the Omega, the beginning and the end. The Spirit and the bride say, "Come!" Whoever is thirsty, let him come; and whoever wishes, let him take the free gift of the water of life.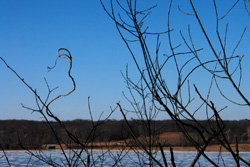 Forty days after his resurrection Jesus ascended into heaven. His last words to the disciples sent them out to preach and minister to the whole world. Ten days later the Holy Spirit descended upon these same disciples. They spoke in all kinds of languages, performed miracles just like Jesus, and spoke with authority far beyond their own. The season of Easter is winding down. And the Holy Spirit is just getting started.
Paul's prayer for the Ephesians is also for me. It's my heart that can best know God's love. As James Adams points out, my religious life is not about convincing God that I love him. Instead, "carrying out our religious duties is rather to enhance our knowledge of God's love for us, to convince ourselves that God loves us."
Mother Teresa and her band of Christ-followers often testified of knowing Jesus best when they were with the poorest of the poor. He did say, after all, "Whatever you did for one of the least of these brothers of mine, you did for me" (Matthew 25:40). Where would Jesus be except in the homes and hearts of those who suffer? He always chose, as Richard Rohr says, the path of descent, carrying his gifts to those who were most oppressed and most lost. In doing so, of course, he joined them. And he wants each of us to follow the same path.
Ruth Burrows, in Ascent to Love, puts it well:
We see what we could never have dreamed: omnipotence operating only in weakness and self-sacrifice ... we must long for the selfless love of Jesus. Jesus crucified is the dark night into which we must enter so as to be one with God ...

So the way to God is not by acquisition, not by building ourselves up, not by understanding (or overcoming), but by letting go. God will illumine our blindness, (but) we must renounce all clear perceptions and rest on faith alone.
So my efforts are in vain? The more I try to know, the less success I have? My clearest thoughts draw me away from God rather than toward Him?

God is in charge. He's the leader, He's the source. Of course I continue thinking, seeking, desiring to know him. But he leads, and I don't. "Be still, and know that I am God" (Psalm 46). "In your light we see light" (Psalm 36). "He leads me beside still waters; he restores my soul" Psalm 23).

And each time he leads me ... down.

Lord you guide me Every Day into serving others and loving them the way you love me. Always when I do take the cue, you're there ahead of me. And my heart breaks with joy.

";