And God says, "Come in..."
Thursday, March 16, 2000
Matthew 7:7
Jesus says, "Ask and it will be given to you; seek and you will find; knock and the door will be opened to you."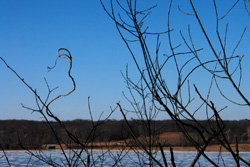 Very early in the morning, and very late at night (just at those singular moments of entering and leaving sleep), the doors of God's inn are opened. Jesus is a masterful host, letting the smells of dinner waft up into my nostrils. The allure of rest after hard work calls me inside.
Conversation and empathy by the fire reminds me of family circles. Jesus invites, and I want to enter, take a load off, wait out the storms, eat my fill and rest.
Epiphany, the moment of heaven touching earth and rushing to fill every void, is most available at these two moments. Archibald Hart, Fuller Seminary psychology professor, describes brain functions that affect the "open door":
The less aroused (adrenalized) one is, the greater the number of theta waves. The more aroused you become, the greater the alpha and then beta waves and the fewer the theta waves. Theta waves are considered to be the basis for creative thinking.
Lent is a time for choosing different doors to enter (another way to say "sacrifice"). I see through the glass, and it's dark, and I can barely see inside. Later I'll see face to face. What's in there???? And what keeps me from going in???

I'm glad God knows my weakness, and thus offers me a season - a limited-time-offer that tempts me to do the best thing for myself instead of merely "good" things. I hope this season lasts and lasts.

Thank you, Lord, for offering me a few moments each day when the door opens easier, when I can more easily enter the place where God will fill my plate.

";