... and the life everlasting. Amen
Sunday, April 29, 2007
John 10:27-30 and Revelation 7:9, 14-17

Jesus said:
"My sheep listen to my voice; I know them, and they follow me. I give them eternal life, and they shall never perish; no one can snatch them out of my hand. My Father, who has given them to me, is greater than all; no one can snatch them out of my Father's hand. I and the Father are one."

And John wrote:
After this I looked and there before me was a great multitude that no one could count, from every nation, tribe, people and language, standing before the throne and in front of the Lamb. They were wearing white robes and were holding palm branches in their hands.
And he said, "These are they who have come out of the great tribulation; they have washed their robes and made them white in the blood of the Lamb ... Never again will they hunger; never again will they thirst. The sun will not beat upon them, nor any scorching heat.
For the Lamb at the center of the throne will be their shepherd; he will lead them to springs of living water. And God will wipe away every tear from their eyes."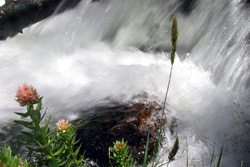 We don't pick our tribulation. John Tyndale was strangled, then burned at the stake only months before his English Bible translation was accepted by the king. Dietrich Bonhoeffer was hung by special order of the Gestapo hours before Germany surrendered in 1945. The curtain of physical death loomed before them, they were pushed through the curtain, and then ...

I don't pick my tribulation, but I know it will come. I won't go through the curtain without a fight. Death is the enemy; it's what comes after death, the triumph of the resurrection that is my friend. For now, my body rebels against gravity and age; my mind fills with anxiety instead of peace. When I reach out for simplicity I take too much or too little and things get complicated over and over again.

I wait, but with little patience, for my own resurrection. "Thy kingdom come, thy will be done on earth ..." God gives me glimpses and tastes of his kingdom in the middle of the "tribulation," and assures me of his commitment. No one can snatch me out of his hand. I am safe with Jesus. I am safe with the Father. I am safe with the one who made me. I am safe with God.

"Be faithful, even to the point of death, and I will give you the crown of life" (Rev. 2:10). As I live longer on earth, I think more about heaven. I still rejoice at the beauty of spring flowers, in the power of Niagara Falls, amid the kisses of lovers and mothers and babies and dogs. But coming up fast in the background are the songs of saints and angels and men and women and children ... just like me. And there is no sweeter sound.

Open my ears, Lord, to all the sounds of life everlasting.

";