Just do it
Sunday, April 15, 2007
John 20:24-29
Thomas, one of the Twelve, was not with the disciples when Jesus came. And he said to them, "Unless I see the nail marks in his hands and put my hand into his side, I will not believe it."
A week later Jesus came and stood among them and said, "Peace be with you!" Then he said to Thomas, "Put your finger here; see my hands. Reach out your hand and put it into my side. Stop doubting and believe."
Thomas said to him, "My Lord and my God!"
Then Jesus told him, "Because you have seen me, you have believed; blessed are those who have not seen and yet have believed."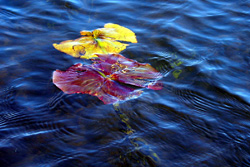 In philosophy and math classes I learned the value of logic and evidence in coming to conclusions about reality. As a child I discovered the importance of naming things and how important it was, for example, that my friend and I have the same understanding of "behind." When he told me there was a chair behind me, I sat down without looking. And fell flat on my rear. He laughed. "I didn't say how far behind."

We could of course have debated the meaning of the word "chair" at some other point in our contentious life together. And how about the word "love?" My wife and I go round and round.

So "knowing" that Jesus died and returned to life may not be accomplished by logic, personal evidence or definition. "It depends on what you mean by 'live'" ... doesn't come into play. Making the Thomas-decision involves what Christian philosopher Soren Kierkegaard called the "leap to faith," which is characterized in the Bible by the father who asked Jesus to heal his child and then said, "I believe, Lord. Help my unbelief!" (Mark 9:24). I can't know Jesus is God until I decide to believe it, and still I waver constantly without God's help.

Deciding how I know something is a core question of life. Every other question about living is unanswerable until the word "know" is defined.

Or is it? Jesus takes Thomas, and all of us, beyond that question with his request. "Believe even though you don't see." He doesn't tell me how to do that, but just to do it. Like a child. The knowing comes out of the doing, after the doing, in the midst of the doing.

Just as "in the beginning, God" overtakes our questions about origin, Jesus statement that "I am the truth" changes the nature of questions about knowing and truth in my life. Jesus most important words are, "Follow me." Everything else falls into place when I do that.

Put my feet where my mouth is, Lord.

";