Jesus and Peter
Friday, April 13, 2007
John 21:2-6
Simon Peter said, "I'm going out to fish." He and four other disciples went out and got into the boat, but that night they caught nothing.
Early in the morning Jesus stood on the shore, but the disciples did not realize that it was Jesus. He called out to them, "Friends, haven't you any fish?"
"No," they answered.
He said, "Throw your net on the right side of the boat and you will find some." When they did, they were unable to haul the net in because of the large number of fish.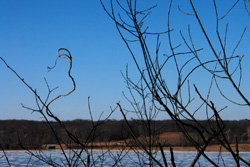 The disciples didn't say, "Hah! What does he know? We're the ones that have worked all night. We're professionals. Just ignore him." Actually that sounds a lot more like Simon Peter.

Jesus may not have been testing his friend; but if he was, Peter passed. His humility was growing. He listened better. He was teachable, perhaps for the first time in his life. He let Jesus wash his feet, and now he let a stranger give him advice about his own expertise.

Breakfast on the beach will be a turning point for Peter. The "rock, on which Jesus will build his church," will be given his commission. "Love my sheep," Jesus says to him. Peter's gruff, aggressive, know-it-all style has greatness written all over it, once he learns to serve. And Jesus has taught him that.

Simon ("the one who hears") couldn't become Peter ("the rock") overnight. But with his ears open and Jesus to guide him, he went on to model humility to the other great Christian missionary - Saul - made Paul by his own moment of being broken by Jesus. He became the model as well for martyrs, asking to be crucified upside down because he didn't deserve the same treatment Jesus had been given.

And when he strove to summarize what he learned as Jesus' disciple and then his emissary, he wrote (with great authority) mostly about submission and humility at every moment of life. Always, his model was Jesus:

Jesus himself bore our sins in his body on the tree, so that we might die to sins and live for righteousness; by his wounds you have been healed. For you were like sheep going astray, but now you have returned to the Shepherd and Overseer of your souls.

Submit yourselves for the Lord\'s sake to every authority instituted among men: Love the brotherhood of believers, fear God, honor the king.

Do not fear what they fear; do not be frightened. But in your hearts set apart Christ as Lord. Always be prepared to give an answer to everyone who asks you to give the reason for the hope that you have. But do this with gentleness and respect. Be self-controlled and alert. Your enemy the devil prowls around like a roaring lion looking for someone to devour. God opposes the proud but gives grace to the humble. Humble yourselves, therefore, under God\'s mighty hand, that he may lift you up in due time. Cast all your anxiety on him because he cares for you. (1 Peter 2, 3, 5)

Peter became the man God made him to be. It took him his whole life on earth. As it does for us all.

You work me out too, Lord, like Peter, like dough on a marble slab. There is nothing in this but your love. I am learning that day by day.

";