God and money
Wednesday, April 11, 2007
Luke 24: 13-16, 30-32
Two of them were going to a village called Emmaus, about seven miles from Jerusalem. They were talking with each other about everything that had happened. Jesus himself came up and walked along with them, but they were kept from recognizing him.
...When he was at table with them, he took bread, gave thanks, broke it and began to give it to them. Then their eyes were opened and they recognized him, and he disappeared from their sight.
They asked each other, "Were not our hearts burning within us while he talked with us on the road and opened the Scriptures to us?"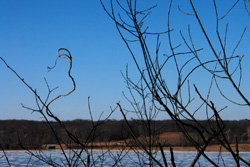 Bob Dylan sang,
My money comes and goes
My money comes and goes
My money comes and goes, it rolls and flows
It rolls and flows
through the holes in the pockets of my clothes,
I'm a-walkin' down the line.
Jesus said, "You can't serve both God and money." But every day God and money are on my mind. And I'm very grateful for the good days when God gets position and keeps it. That's the kind of day those two disciples had. Another moment never to forget.

Christians seeking renewal can attend several well-established retreat programs, one of which is aptly named the "Walk to Emmaus." I am most familiar with the Kogudus retreat, and many Catholics (and non-Catholics) have been blessed by attending a Cursillo weekend. The goal is always the same, to encounter Jesus and let him, as the disciples said, make our hearts burn.

There is a flow with money most of us recognize immediately. It comes in, it goes out, it comes in, it goes out. I need an occasional windfall or disaster to remind me that I'm not so much in charge of my life as I thought.

Life with God has a flow too, and often it seems just as routin-ized. I sin, get forgiven, sin and get forgiven. Church. Communion. Sermon. Songs. God is in there somewhere. Prayers before bed, before meals, before tough situations. Day by day by day. Most of my life goes like that.

And I need some moments where Jesus bounces me on the sidewalk, looks me in my red eyes and says, "I'm here, and I love you, and try not to forget that." Where he might even say, "Sometimes when I'm with you, my heart breaks at the decisions you're making." Moments of recognition, that God is God and I am not.

On the road to Emmaus the disciples encountered the Kingdom of Heaven. Jesus opened the door, and they walked right in. Those moments don't come very often, but they're more real than all the rest. And I must never forget them.

Lord, you inhabit all my days, the days when my heart burns ... and the days when it does not. Thank you!

";