Walking the plank
Wednesday, March 28, 2007
Daniel 3:16-18, John 8: 31, 34-36

Shadrach, Meshach and Abednego replied to the king, "O Nebuchadnezzar, we do not need to defend ourselves before you in this matter. If we are thrown into the blazing furnace, the God we serve is able to save us from it, and he will rescue us from your hand, O King. But even if he does not ..."

Jesus said, "If you hold to my teaching, you are really my disciples. Then you will know the truth, and the truth will set you free.
"Everyone who sins is a slave to sin. Now a slave has no permanent place in the family, but a son belongs to it forever. So if the Son sets you free, you will be free indeed."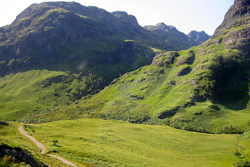 I imagine seeing the pirates' plank before I'm blindfolded. It's not long, and then the drop into the sea is fast and final. The blindfold goes around my head, the sword pokes me in the back, and up I go. Swaying, swinging, trying to keep my balance, I take the first step.

The second step is no easier than the first. Voices behind me threaten and growl. Three steps now. I can hear the water rushing, and the voices begin to fade away. Four steps. Five.

My toes reach for the edge of the board. They feel only solid wood. And I take another step. There is nothing but the wind, and the waves, and the air smells sweet. Silence behind me. In the air there's a whisper, "Lo, I am with you always, even to the end of the world." And I take another step.

The three Israelites in Nebuchadnezzar's court didn't know what God would do; they only knew God. They chose to trust him. They were loyal to him. God rescued them in the most dramatic way. This time.

What alternative is there, though? What good is it to cry obedience to a pirate, when there is nothing but fear and falseness in that? How could those three sound-minded guys have done such a thing? How could we? The kind of "freedom" we achieve for a moment washes away like sand in the wave of freedom Jesus promises. Freedom indeed.

This is freedom, Lord, to know my only master is the one who made me, who knows me, who is the source of my life and will receive my spirit when my bodies dies.

";