God suffers too
Monday, March 5, 2007
Daniel 9:8
O Lord, we are shamefaced, like our kings, our princes, and our fathers, for having sinned against you.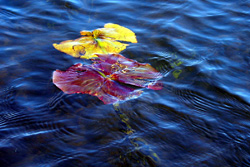 "Rejoice with those who rejoice; mourn with those who mourn" (Romans 12:15). If we can do that for one another, doesn't God do the same? And not just sometimes, and not just for some of us, but for all of us, all the time?
In Manifesting God, Father Francis Keating writes:
The anguish of a guilty conscience, if we accept it, is the precise point at which our personal redemption takes place. When we accept the fact of failing God, ourselves and others - or whatever misconduct lies heavily on our conscience - God takes our suffering into himself and heals it. The very pain we feel, once fully accepted, enables us to become the persons that we really are.

Rather than feeling unworthy of God, we must rather recognize the fact, as the parable of the great banquet reveals, that God joins us in our sufferings. Suffering does not reflect God's displeasure, but rather his desire to introduce us to the fullness of his redeeming activity.

God's saving action of course extends to the healing of the whole human family. The human family - past, present, and to come - is the object of God's transforming love. It is into this movement of boundless compassion that he draws us as we advance in the spiritual journey.
The suffering God allows in my life is not intended to punish me; it's God's way of opening me up to "the fullness of his redeeming activity." As I abandon the illusion that I'm in control of my destiny or even my day, and give it over to Him, I begin to see who God made me to be, who I have been all along. More than any good parent, God wants me to grow up and live my life fully and well. He stops at nothing to enable me to accomplish that.

Lord, this perspective changes everything. Settling into your point of view gives me freedom and courage every single day. Thank you.

";