Cocoon
Sunday, March 4, 2007
Genesis 15:18
On that day the Lord made a covenant with Abram and said, "To your descendants I give this land, from the river of Egypt to the great river, the Euphrates."
Psalm 27:13
I will see the goodness of the Lord in the land of the living.
Luke 9:30-31
Two men, Moses and Elijah, appeared in glorious splendor, talking with Jesus. They spoke about his departure, which he was about to bring to fulfillment at Jerusalem.
Philippians 3:19-20
Their mind is on earthly things, but our citizenship is in heaven. And we eagerly await a Savior from there, the Lord Jesus Christ.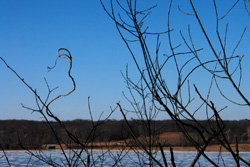 More than most religious books, the Bible describes God's personal involvement with men. As Professor John Oswalt says, God "entangles" himself with men, calls them his children, makes promises to them, exacts commitments from them.

One of the first stories in Genesis describes our estrangement ... "The man and his wife heard the sound of the Lord God as he was walking in the garden, and they hid from him." God called out, "Where are you?" Then Adam did not hide but spoke up.

I vacillate too. Sometimes I am filled with joy because God seems so close, with me deep inside my mind and body. But sometimes I absolutely don't want him to know what I'm doing, what I'm thinking, what I've done. What a strange and hollow swinging from side to side I do, caught in the swirling winds of the world.

These verses describe some of the downloading God initiates to assure us of his presence. In spite of my failure to communicate or accept his authority, He keeps showing up. As John Wimber described it, "the problem is not on his end." I'm the one who forgets our relationship, seeks to sit in God's place and do his work, fails to trust him.

I have my whole life to build up that trust. God is patient. But the sooner the better.

Lord, you stand at the door and knock. I hear your knocking. I resist the urge to run to the closet and hide. I open the door. Please come in.

";