Words of God
Tuesday, February 27, 2007
Psalm 34:4-7
I sought the Lord and he answered me; he delivered me from all my fears. Those who look to him are radiant; their faces are never covered with shame. This poor man called, and the Lord heard him; he saved him out of all his troubles. The angel of the Lord encamps around those who fear him, and he delivers them.
Matthew 6:7-9
Jesus says, "And when you pray, do not keep on babbling like pagans, for they think will be heard because of their many words. Do not be like them, for your Father knows what you need before you ask him.
This, then, is how you should pray:
"Our Father in heaven, hallowed be your name ..."
Isaiah 55:10-11
"As the rain and snow come down from heaven, and do not return to it without watering the earth and making it bud and flourish, so that it yields seed for the sower and bread for the eater, so is my word that goes out from my mouth: It will not return to me empty, but will accomplish what I desire and achieve the purpose for which I sent it."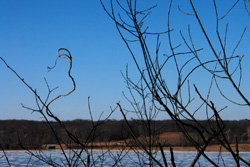 For me, words spoken aloud or written down help me tame my thoughts, let my thinking move ahead instead of in circles, and allow me internal "reality checks": does what I'm thinking make sense or not?

In her life before she wrote Conversational Prayer, Rosalind Rinker was accustomed to praying great magnificent public prayers, but realized she didn't really mean much of what she said. She resolved to be silent until she could pray something she meant with all her heart. It took awhile. Eventually she discovered the joy of conversation with God, during which she could say whatever she felt and thought, knowing God would not avoid her, not condemn her, not belittle her.

Of course God will edit what he hears; after all as Jesus points out, he knows what I need before I ask him. God also knows, per Isaiah, that what he intends to accomplish, he will accomplish. He doesn't need me to ask first.

But words matter. What I say to God matters. Why? I think of instructions for parents and children: parents, love your children and do not exasperate them. Children, honor your parents. I honor God (my Father) with my words. And with my words I relinquish my self, my self-control, my self-consciousness, my self-talk.

Talking out loud, telling God my "secrets," challenges the lie Satan constantly whispers, "Do you really think God cares about you - little you?"

I know God (my Father) will not exasperate me. He will not coddle me, pretend with me, or spoil me. But he will not exasperate me. When I look to him, "my face is never covered with shame."

Lord, I don't always hear you. I know you don't always hear me, because so often I forget to pray. I only slowly am learning how to listen. Thank you for your words, those I hear and those I don't. And thank you for listening to me.

";