Thy Kingdom come
Saturday, January 6, 2007
1 John 5:5-13
Who is it that overcomes the world? Only he who believes that Jesus is the Son of God. ... We accept man's testimony, but God's testimony is greater because it is the testimony of God, which he has given about his Son.
Anyone who believes in the Son of God has this testimony in his heart. And this is the testimony: God has given us eternal life, and this life is in his Son.
I write these things to you who believe in the name of the Son of God so that you may know that you have eternal life.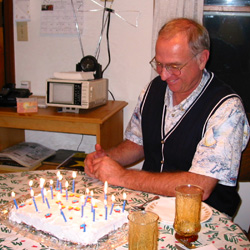 The calendar marks this day with one of the most wonderful words I know. This Greek word "epiphaneia", marks the most important moments of life, the moments intended, as James Joyce wrote, "to throw open in an instant of ecstasy the gates of all the ways of error and glory" (Portrait of the Artist as a Young Man, chapter 4).
To be with God in the moment (as Jesus implores us to be in Matthew 6) means to let every one of my experiences epiphanize within me, allowing them escape from the jaws of my emotion and thoughts to just be. Gray days full of darkness in the morning have their own beauty. Both error and glory lead me up the path of God.
Chapter 3 of Joyce's book ends with another epiphany, as young Stephen is overwhelmed during the Eucharist:
--Corpus Domini nostri.
Could it be? He knelt there sinless and timid: and he would hold upon his tongue the host and God would enter his purified body.
--In vitam eternam. Amen.
Another life! A life of grace and virtue and happiness! It was true. It was not a dream from which he would awake. The past was past.
--Corpus Domini nostri.
The ciborium had come to him.
It remained for Joyce to learn the art of living physical moments while infusing them with eternal value. This artist, as he claimed sanctuary here on earth from the mundane and meaningless, must have been constantly tempted to create his own epiphanies. I too want to escape the ugly, the sad, the depressing, the boring Facts of Life. But doing so on my own anchors me in the temporal. John's joy in having eternal life escapes me.

I can't hurry things. I must wait for the ciborium to come to me.

It is your body, Lord, that feeds me. Nothing can take its place. Your presence at our table makes the meal worth eating.

";