The eye of God
Friday, January 5, 2007
John 1:43-51
Finding Philip, Jesus said, "Follow me."
When Jesus saw Nathanael approaching, he said of him, "Here is a true Israelite, in whom there is nothing false. ...
"I tell you the truth, you shall see heaven open, and the angels of God ascending and descending on the Son of Man."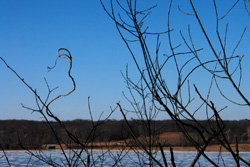 Jesus' eyes were so clear. When he looked at a man or woman he saw what there was to see. He saw others the way I want to see them: from God's point of view.

What didn't get in his way was his own needs, preconceptions, judgments or ego. I get a taste of this openness sometimes. There are moments when I am just with someone, looking into them, listening to them. What I am not doing is thinking about them, not trying to figure them out, not coming to conclusions or putting them in some box so I understand them better.

When this miracle of relationship occurs we both feel known, not so much by each other but by God together. Jesus did this all the time. Being with him felt like being with God. Turns out that was indeed the case, but long before the Council of Nicea, being with Jesus meant being with God.

Jesus didn't hesitate when asked what was most important: "Love God, and love your neighbor as yourself." Which comes first, the chicken or the egg? These three relationships, with God, with myself, and with my friend all touch and change one another. When I keep my arms open, my mind alert, and my mouth shut ... God infuses my love with his own, and all of us come into the Right Place.

Lord, you show us together some of heaven even when we're on earth. These are the most precious moments of our lives. Thank you.

";