Baby rocking me
Wednesday, December 27, 2006
1 John 1:1-4
That which was from the beginning, which we have heard, which we have seen with our eyes, which we have looked at and our hands have touched - this we proclaim concerning the Word of life. The life appeared; we have seen it and testify to it, and we proclaim to you the eternal life, which was with the Father and has appeared to us. ... And our fellowship is with the Father and with his Son, Jesus Christ. We write this to make our joy complete.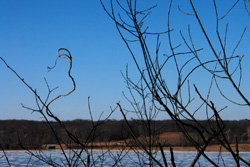 John writes like an American Indian, "before me Jesus, all around me Jesus." Jesus is seen and touched, heard and felt. Everything that is human and physical ... Jesus is. And John proclaims as well "the eternal life," which was with the Father and has appeared to us. Jesus intends for us to know that too is a human attribute. We do not live forever here on earth, but we do live forever.
Knowing this frees me instantly and completely from fear. Self-centered and self-defensive behavior fall away from me like dead leaves in October.
I wish this were more true. The words of God are true, but my response to them is less so. I do experience fear, and I continue to protect myself. For no reason, I know. And I am moving away from this old thing into the new. Baby Jesus growing into God among us makes this happen.
At the conclusion of this year's Christmas mass at Holy Name Cathedral in Chicago, broadcast live by WGN, the announcer said:
It's no ordinary child whose birth we celebrate today. It is the birth of God becoming one of us. Jesus loved us so much that he became one of us and gave his life for us, a love that lasts forever. Christmas is a celebration of life.

Mother Teresa once said, "Welcome Jesus at Christmastime, not into the cold manger of our hearts, but rather with warmth, with love for one another."

Humanists merely admire the baby, shepherds and kings adore the incarnate God. Unbelievers rock the cradle; believers know the cradle rocks the world. We come in silence, faith and awe.
Lord Jesus, make me more loving, more free to love. You have given me, and all of us, life with you forever. Rock and rock and rock my world, Lord.

";