Love ... or forty years in the wilderness
Saturday, December 23, 2006
Malachi 3:1-4
"I will send my messenger, who will prepare the way before me. Then suddenly the Lord you are seeking will come to his temple; the messenger of the covenant, whom you desire, will come," says the Lord Almighty.
But who can endure the day of his coming? Who can stand when he appears? For he will be like a refiner's fire or a launderer's soap. He will sit as a refiner and purifier of silver; he will purify the Levites and refine them like gold and silver. Then the Lord will have men who will bring offerings in righteousness.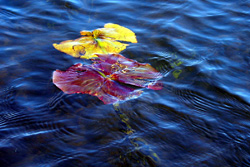 In "Living Faith," Mark Neilsen writes:
Purification, it seems is not an easy business. Jesus may have arrived in Bethlehem as a harmless infant, but he didn't stay that way. To fulfill his mission, Jesus had to become like fire capable of burning away impurities from precious metal or harsh lye soap to cleanse wool.

So why do I imagine I can celebrate his coming with ease? Am I really under the impression that I have undergone all the purification I need?

I am a person who finds the celebration of Christmas a little difficult sometimes. Try as I might, I just haven't mastered letting go of expectations, be they realistic or not. I miss the people who aren't gathered around the festive table and become too easily annoyed with the ones who are.

The prophet Malachi reminds me to rejoice that I have already endured the day of Christ's coming, and I hope to endure it again. And again and again - just as long as it takes to be purified by and for love.
Lord, I'm surprised so often by the people who show up at your banqueting table. I never would have guessed! So many sinners ... that are learning to love you, and beginning to know your love for them. Duh! I guess you see me the same way. We're all sinners, we're all your children. What a great way to start a meal, by holding hands and turning to you. Father. Daddy.

";