Strong man
Tuesday, December 19, 2006
Judges 13:1-3, 24-25
The Israelites did evil in the eyes of the Lord, so the Lord delivered them into the hands of the Philistines for forty years. A certain man of Zorah, named Manoah, had a wife who was sterile and remained childless. The angel of the Lord appeared to her and said, "You are going to conceive and have a son."
The woman gave birth to a boy and named him Samson. He grew and the Lord blessed him, and the Spirit of the Lord began to stir him.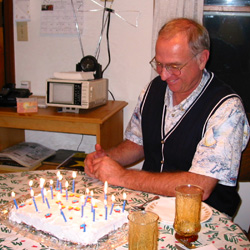 It was the barren woman who bore the strongest man of his age. Though Samson tragically misused it, it was God's strength in him that got the glory. And it was God's "seed" that made his mother pregnant.

Mary too, of course. She didn't have any husband at all. Jesus was born, nevertheless. God certainly seems willing to occasionally cross his own lines and break his own rules. Miracles happen every day, and extraordinary miracles happen too. The birth of Jesus was extraordinary.

Samson's parents asked the angel to return and instruct them in raising their child, because they recognized this was God's child. What they knew was not enough. Samson was raised as a Nazarite, as was John the Baptist hundreds of years later.

God sent many precursors before Jesus. Samson, Elijah, John ... and then at one of the darkest moments in the history of Israel, Jesus came. This Messiah was not what anyone expected, but he was the Messiah nonetheless.

In my weakness you display your strength, Lord. Let me rejoice in that weakness, learn obedience, and exult in your strength.

";