Star bright
Thursday, December 14, 2006
Isaiah 41:13, 19-20
I am the Lord, your God, who takes hold of your right hand and says to you, "Do not fear; I will help you."
I will put in the desert the cedar, the acacia, the myrtle and the olive.
I will set pines in the wasteland, the fir and the cypress together, so that people may see and know, may consider and understand, that the hand of the Lord has done this, that the Holy One of Israel has created it.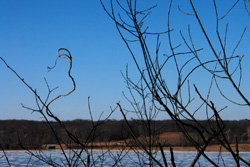 Geography seems so immutable, because change comes slowly. The creation of the something like the Turkey Run gorge in Indiana took thousands of years, say the geologists. Creation of the Grand Canyon took far longer. Almost nothing in those two canyons will change perceptibly during my lifetime.
Political geography changes more quickly. The Berlin Wall fell overnight. Coups and revolutions change the political landscape within days or weeks. What seemed like it might last forever falls away like water off an oil rock.
God's point must be that Isaiah only sees what is, not what God sees. God is not caught in time like we are. He sees what was, what is, what will be ... all at once. Whether he made the Grand Canyon in a month or a millennium, he can do either.
Jim Croegaert wrote and sings a beautiful song, "Galaxies":
I heard somebody say
They've decided now there're
Fifty billion galaxies ...
I wanted to say
Didn't you hear
There's this incredible show
From eons ago
Now playing here
It gets harder all the time
To think that what we
See is just an accident ...
We were made for worship
We were made for worship ...
Anticipation is one of the joys of my life. Memories often bring me great happiness. And learning how to live means learning how to "live in the moment." I am grateful for these experiences with the future, the past and the present.

But none prepares me for the way God lives, and the way He invites me to live for eternity. For that, I can look only to him, and listen only to him. He is the teacher. I sit at his feet.

I close my eyes, Lord, to pray, and see your desert blooming. Stars fall all around your feet. All creation praises you. You are God. There is no other.

";