Redemption
Friday, December 8, 2006
Genesis 3: 13, 16, 20 and Luke 1:27-28, 31

Then the Lord God said to the woman, "What is this you have done?"
The woman said, "The serpent deceived me, and I ate." ...
To the woman, God said, "I will greatly increase your pains in childbearing; with pain you will give birth to children. Your desire will be for your husband, and he will rule over you. ...
Adam named his wife Eve, because she would become the mother of all the living.
...
Now this virgin's name was Mary. The angel Gabriel went to her and said, "Greetings, you who are highly favored! The Lord is with you. ... You will be with child and give birth to a son, and you are to give him the name Jesus."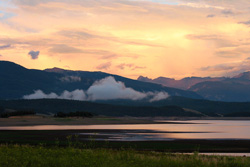 Since God shut the gates to the Garden of Eden, there had never been a childbirth like this. God's description of woman's life after the Fall predicted her pain, the lack of respect she would receive from man, and her subservience. All of this came to pass.

And now God returns to speak again to woman, this time to Mary, a young Jewish virgin. Thousands of years have passed, and once again God puts his hopes in a human being. Gabriel's words held the implicit question, "Mary, how will you respond?"

Mary might have heard whispers from Satan even as she heard the words of Gabriel. She was certainly afraid. Her character, the expectations of her parents, her joyous engagement to Joseph all stood in the way of this strange announcement of an illegitimate pregnancy. What would Eve have done?

Mary spoke clearly and without hesitation. "I am the Lord's servant," she said. The subservience that had been perverted into a sort of slavery at the hands of man now came back to its root, the created one acknowledging ownership to the creator. "May it be to me as you have said."

Eve's rebellion was not repeated by Mary. Soon she would bring forth a child, God's baby, a son to be named Jesus. And even as God warned the serpent devil in the beginning, "I will put enmity between your offspring and hers; he will crush your head, and you will strike his heel" (Gen 3:15). Jesus would free the world from the grip of Satan.

Mary's "Yes!" echoes into the endless canyons of the spirit world. God's "Yes!" echoes back.

Lord, Mary spoke words of joy and submission, obedience and peace. She loved obeying you. Let me follow her and love it too.

";