Waiting no longer
Saturday, April 22, 2006
Acts 4:13-22

They saw the courage of Peter and John, and realized that they were unschooled, ordinary men. They were astonished and took note that they had been with Jesus. But since they could see the man who had been healed standing there with them, there was nothing they could say.
"What are we going to do with these men?" they asked.
They called them in again and commanded them not to speak or teach at all in the name of Jesus.
But Peter and John replied, "Judge for yourselves whether it is right in God's sight to obey you rather than God."
All the people were praising God for what had happened. For the man who was miraculously healed was over forty years old.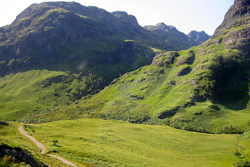 Like Jesus. This was Peter and John, but they were touching people and healing people like Jesus. A few days later, "people brought the sick into the streets and laid them on beds and mats so that at least Peter's shadow might fall on some of them as he passed by" (Acts 5:15).

Jesus told them they would be clothed with power from on high. He even said they would do greater things than he had done. And now, so quickly, it was happening.

Peter especially was full of the healing power of God. And he handled it well because he had been so thoroughly humbled by his three denials and Jesus' subsequent forgiveness. Now there was so little of himself to get in the way of God working through him.

Nobody knew what to do with them. It had been the same with Jesus. People that do so much good were dangerous, of course. This kind of heavenly kingdom work threatened the leaders of the kingdom on earth. And this time there was no claim of divinity the priests and scribes could point to as blasphemy.

Jesus' words and work were being spread like wildfire through the population. Joy and anticipation of Jesus' swift return must have filled the hearts and minds of new Christ-followers. The disciples expected him to return before they had lived out their days.

That was not to be. Or was it? Just reading these stories gives me goose bumps, and I feel Jesus reading over my shoulder. He's right here.

Lord, I don't have to understand your chronology. Christ-time is moving along just like you want it to. Day by day by day.

";