Fire this time
Friday, April 21, 2006
John 21:3-14

Simon Peter said, "I'm going out to fish."
Four other disciples replied, "We'll go with you." So they went out and got into the boat, but that night they caught nothing.
Early in the morning Jesus stood on the shore, but the disciples did not realize that it was Jesus. He called out to them, "Friends, haven't you any fish?"
"No," they answered.
He said, "Throw your net on the right side of the boat and you will find some." When they did, they were unable to haul the net in because of the large number of fish.
When they landed they saw a fire burning coals there with fish on it, and some bread. Jesus said to them, "Come and have breakfast."
This was now the third time Jesus appeared to his disciples after he was raised from the dead.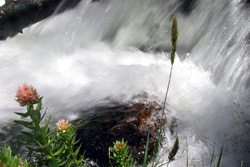 Jesus wanted his disciples to be successful and comfortable. He knew just what to do to make that happen. I can just hear Peter saying, "It doesn't get any better than this!"

I can get a lot more complicated in my quest for comfort. Plush leather chair, flat screen TV, all the news that's fit to print under my high-intensity reading light, a homemade cappuccino sitting on my Louis XIV side table. The "success" required to buy all that stuff might stress me out, but sometimes it seems worth it.

It's not worth it. When Jesus sent 153 fish into Peter's nets and cooked up some fish and bread for breakfast, he filled those human hearts with joy and contentment. I'd rather be beside that first century fire than in my fancy living room any day.

The more nice stuff I own, the more I want. I have the high-intensity reading light already, by the way. And we have an espresso maker, so I can mix up the cappuccino. And I'd love to get that fine TV one of these days. It's on the list, along with lots of other stuff.

In college, we sometimes sat in a circle and threw everything we had in our backpacks and pockets in a big pile between us. It was our Stuff pile. I don't know why we did that, except maybe to distance ourselves from it. That stuff was not what mattered in our lives. And it doesn't matter much in mine now, either. But the only way I really get out of its grip is to get in a circle around the fire with Jesus, throw it all in the middle, and look unblinking into the eyes of my Master.

He is the one who makes me successful. His comfort is the only comfort that lasts. He makes me whole. Whatever takes me away from that circle and pulls my gaze away from Jesus ... the devil will use it any way he can.

You light the fire that draws me in, Lord, the fire that lights my way, the fire that warms my body and my soul.

";