A walk to Emmaus
Wednesday, April 19, 2006
Luke 24:13-35

On the day Jesus left his tomb, two men were going to a village called Emmaus. They were talking with each other about everything that had happened. Jesus himself came up and walked along with them, but they were kept from recognizing him.
They stood still, their faces downcast. "Jesus was a prophet, powerful in word and deed before God and all the people. They crucified him, but we had hoped that he was the one who was going to redeem Israel. Some of our women saw a vision of angels, who said he was alive. But our companions went to the tomb and did not see him."
Jesus said to them, "How foolish you are and slow of heart! Did not the Christ have to suffer these things and then enter his glory?" And beginning with Moses he explained to them what was said in the Scriptures concerning himself.
In the evening at their table Jesus took bread, gave thanks, broke it and began to give it to them. Their eyes were opened. They recognized him. And he disappeared from their sight.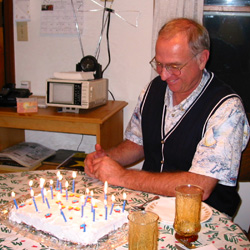 Jesus seems to move effortlessly from place to place without the inconvenience of walking. Later the same night he will appear to all the disciples miles away. He appears and acts as human as those who see him, but then he fades away.

Jesus disappears, but his spirit remains. After Jesus left them, the men in Emmaus rejoiced: "Were not our hearts burning within us while he talked?" The disciples are no longer sad or lonely. They are excited and full of hope. Jesus is alive!

God oversees all of history. Jesus himself is called the "Alpha and Omega, the first and the last." Of course he will see the connections between ancient past, present and future. When he talks his listeners can understand life's purpose in ways otherwise impossible.

No one wants Jesus to leave. But they no longer grieve when he's gone. They babble at each other with delight and abandon, they look forward to tomorrow, they are not afraid.

Jesus is alive. God's magic is afoot. Life is no longer gone gray, but full of color once again.

For the disciples, Jesus, and for me too. Your presence relieves the gray horizon with sunshine and blue sky. My heart soars to meet you.

";