Suffering and glory of the servant
Friday, April 14, 2006
Isaiah 52:13-53:12 and John 18:11

Many nations will marvel at him, and kings will shut their mouths because of him. What they were not told, they will see. What they have not heard, they will understand.
He was despised and rejected by men, a man of sorrows, and familiar with suffering. Surely he took up our infirmities and carried our sorrows ... Yet we considered him stricken by God, Smitten by him, and afflicted.
But he was pierced for our transgressions, he was crushed for our iniquities, the punishment that brought us peace was upon him, and by his wounds we are healed.
We all, like sheep, have gone astray, each of us has turned to his own way; and the Lord has laid on him the iniquity of us all. He did not open his mouth, he was led like a lamb to the slaughter. As a sheep before her shearers is silent, so he did not open his mouth. It was the Lord's will to crush him and cause him to suffer. The Lord makes his life a guilt offering.
But after the suffering of his soul, he will see the light of life and be satisfied. My righteous servant will justify many and he will bear their sins. He surrendered himself to death, and he shall take away the sins of many and win pardon for their offenses.

Jesus: "Shall I not drink the cup the Father has given me?"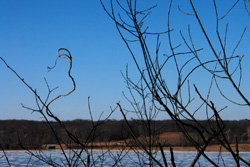 God is so close, so close, so close to us. When I am rejected he is rejected. When I feel the warmth of acceptance, so does he. My pain breaks his heart, my grief rises up too in his chest. Henri Nouwen says, "In Jesus all human suffering is collected."

Today is a good day to die. We little men can become bigger today. We can recognize the solidarity of all people, the unity of all suffering. None of us are islands. "If a clod be washed away by the sea, Europe is the less. Any man's death diminishes me, because I am involved in mankind."

To relive the passion of Jesus is to enter the suffering of God. Nouwen: "The broken heart of Jesus is the broken heart of God. The broken heart of God is the broken heart of the world."

God carries me on his back into the water grave of baptism. No light, no breath ... only darkness. When his work is finished, He breaks the surface, carries me to shore and breathes new life into my saturated lungs. I cough and choke, open my eyes.

Now today, re-created, I see through Jesus' eyes, and know what he died for. Know something of his compassion and his agony and his desperate cry to the children ... the other children of his Father.

Restore to me, Lord, the joy of my salvation. Your whole life rejoicing. Suffering known and held, and turned to glory.

";