Feet first
Thursday, April 13, 2006
John 13:1-15
It was just before the Passover Feast. Jesus knew that the time had come for him to leave this world and go to the Father.
He got up from the meal, took off his outer clothing and wrapped a towel around his waist. After that, he poured water into a basin and began to wash his disciples' feet, drying them with the towel that was wrapped around him.
When he was finished, he said, "Now that I, your Lord and Teacher, have washed your feet, you also should wash one another's feet. I have set you an example that you should do as I have done for you.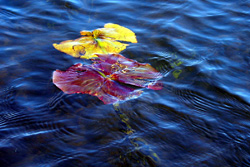 When the leader washes the feet, then everybody gets clean. If the leader knows he's no different or better than anyone else, then the rest of us can know the same thing. Nobody needs to protect their turf, because nobody is trying to steal it.

I've been part of several organizations where this humility was more present than absent. In every case I liked going to work and wanted to contribute all I could. Interactions with the boss involve gratitude, grace and generosity. There is no reason to be self-protective.

This is not a technique that can be learned. It comes from deep inside, a place where one either knows or doesn't know their own value. Jesus was certain of his. When I experience some of that same certainty, then I begin to lead the way he did.

Without a doubt, it feels better to be friends with those I work with than to hold them at a distance. Serving them is more satisfying by far than being served. Their feet are dirty, they are tired from their own long journey. Whatever I do to help them close their eyes and relax, safe in harbor ... that is what I know Jesus first does for me.

Lord, this stuff is contagious, I know that. You start loving us, and we start loving each other. Don't let me drop the ball, Lord.

";