Big bang Jesus
Wednesday, April 12, 2006
Isaiah 50:9 and Matthew 26:21-25

It is the Sovereign Lord who helps me. Who are they that will condemn me? They will all wear out like a garment; the moths will eat them up.
While they were eating, Jesus said, "I tell you the truth, one of you will betray me."
They were very sad and began to say to him one after the other, "Surely not I, Lord?"
Jesus replied, "Woe to that man who betrays the Son of Man! It would be better for him if he had not been born."
Then Judas, the one who would betray him, said, "Surely not I, Rabbi?"
Jesus answered, "Yes, it is you."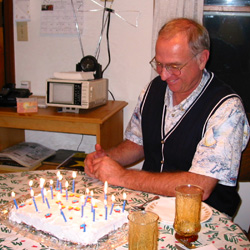 Within a few days Jesus would be crucified, and Judas would have hanged himself. Jesus' words of foreboding must have left as strong an impression as anything Jesus ever said to Judas. It is hard to imagine an authentic "Gospel of Judas" that contradicts so completely this statement of Jesus. Judas left that gathering in fear and trembling.

Jesus knows the strength and perseverance and permanence of his Father; therefore he knows his own. His accusers, and of course his betrayer, will "wear out like a garment" while God lives on eternally. Jesus lives an ever expanding life, full of purpose and joy. The crown jewels of his life on earth, polished and prepared tonight, will be unveiled this week.

Years later John wrote, "This is love, not that we loved God, but that He loved us and sent his son as an atoning sacrifice for our sins" (1 John 4:10).

Richard Rohr often speaks of Jesus' "path of descent." He chooses to serve rather than be served, to suffer rather than become comfortable, and to die rather than to live. But suddenly in his moment of greatest descent, nailed and ridiculed and mangled on the Roman wood, Jesus is glorified. He shines most brightly in the moment of his sacrifice.

The skies do go black with the grief and anger of God. Psalm 18's imagery comes to life: "He parted the heavens and came down: dark clouds were under his feet ..."(Psalm 18:7-14). Satan, so secure in his supposed victory, comes no closer to Jesus' body.

Listen to the wails of God. God, when he grieves, grieves thoroughly and well. Therefore his grief does not last long. And when it's over, as Jeremiah writes most significantly in Lamentations: "Because of the Lord's great love we are not consumed, for his compassions never fail. They are NEW EVERY MORNING" (Lamentations 3:22-23).

When mama's not happy, ain't nobody happy.
And truer still: When God's happy, then everybody's happy.
It's Wednesday ... but Sunday's comin'.

Jesus, Jesus, your words are true and your life is true. You do what you say will do. Thank you.

";