Cherishing Jesus
Monday, April 10, 2006
Isaiah 42:1-8, John 12:1-6

Here is my servant, whom I uphold,
my chosen one in whom I delight;
I will put my Spirit on him and he will bring justice to the nations.
He will not shout or cry out, or raise his voice in the streets.
A bruised reed he will not break,
and a smoldering wick he will not snuff out.
I, the Lord, have called you in righteousness;
I will take hold of your hand.
I will keep you and will make you to be a covenant for the people
and a light for the Gentiles,
to open eyes that are blind,
to free captives from prison
and to release from the dungeon
those who sit in darkness.
I am the Lord; that is my name!
I will not give my glory to another.


Six days before the Passover Jesus arrived at Bethany, where Lazarus lived, whom Jesus had raised from the dead. A dinner was given in Jesus' honor. Martha served, while Lazarus was among those reclining at the table with him.
Mary took about a pint of pure nard, an expensive perfume; she poured it on Jesus' feet and wiped his feet with her hair. And the house was filled with the fragrance of the perfume.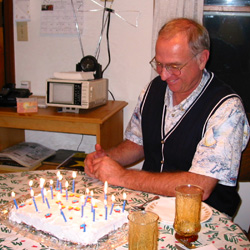 This girl didn't have to say a word. She loved Jesus, and everybody knew it. Jesus wept when he saw her sorrow at Lazarus' death. Jesus restored her brother to life. Jesus made all things new. And she loved him more than she could say.

So she poured that marvelous perfume all over his bare feet, kneeled before him and dried his feet with her long, black hair. She didn't have to look into Jesus' eyes, bent over like that. But when she rose up again, and looked at him, into his face, she saw how much he loved her as well. Whatever embarrassment she might have felt drained away.

God described to Isaiah a gentle hero he would send, compassionate and strong. Jesus the mighty warrior does battle with Satan and his jailers. But when he frees me from the dungeon darkness of my cell, it is softly and tenderly that he lifts me with all my bruises and iniquities.

Somehow the rush of air that cools my skin as Jesus passes by ... does not put out my candle. The world around me is brighter than ever. I can see clearly now, and the pain is gone.

Lord, you are gracious; let me be gracious.
Lord, you are generous; let me be generous.
Lord, you are holy; let me be holy.
You were broken, Lord. Let me be broken.





";