Sunday of Palms
Sunday, April 9, 2006
Isaiah 50:4-7, Psalm 22:17-20, Mark 11:8-10

The Sovereign Lord has given me an instructed tongue, to know the word that sustains the weary. He wakens me morning by morning, wakens my ear to listen like one being taught.
The Sovereign Lord has opened my ears, and I have not been rebellious; I have not drawn back.
I offered my back to those who beat me. I have set my face like flint, and I know I will not be put to shame.
I can count all my bones; people stare and gloat over me.
They divide my garments among them and cast lots for my clothing.

Many people spread their cloaks on the road, while others spread branches they had cut in the fields. Those who went ahead and those who followed shouted, "Hosanna! Blessed is he who comes in the name of the Lord! Hosanna in the highest!"
Jesus entered Jerusalem and went to the temple. He looked around at everything.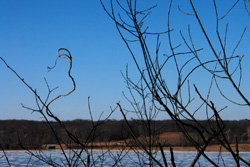 Jesus has been instructed; perhaps since his transfiguration he has known these days were coming. His Father has planned this sacrifice for a long time. Jesus is ready.

He has not been rebellious. He has not drawn back.

What contrast for Jesus between the people's praise today and what he knows will come in just four days. He will offer his back to be beaten. The people will stare at him and finally cry out for him to die. Soldiers will gamble for his clothes. He will have nothing but the tears of his mother and friends below him while he hangs in the air. Dying.

Jesus knows he will not be put to shame.

Today he receives the praise of the people. They sing glory to their Lord Jehovah and they fall before him, Jesus. They sing for him. "Blessed is he who comes in the name of the Lord. Hosanna in the highest." Jesus, Jesus, Jesus. Healer, deliverer, preacher of the truth, who raises children and friends from the dead, who has compassion on sinners but contempt and disgust for those with a religious spirit.

Jesus walks into the temple area and looks around. This is where God is worshipped. This is where Jesus is most at home in all the world. He will spend the next few days right here. What has been ordained will come now. What will be will be.

Lord, you hear God's voice and you follow. There is no hesitation in your step and no doubt in your voice. You know where you are going. Let me be like you, Jesus.

";