Stilled by the Father's hand
Friday, April 7, 2006
John 10:31-39

The Jews picked up rocks to stone Jesus. Jesus said, "I have shown you many good works from my Father. For which of these are you trying to stone me?"
The Jews answered him, "We are not stoning you for a good work but for blasphemy. You, a man, are making yourself God." ...
Jesus replied, "Do not believe me unless I do what my Father does. But if I do it, even though you do not believe me, believe the miracles, that you may know and understand that the Father is in me, and I in the Father."
Once again they tried to seize him, but he escaped their grasp.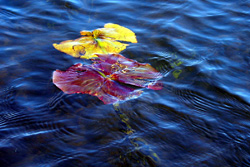 Sticks and stones may break my bones. But Jesus' words were more powerful than all the rocks of Israel.

Tonight in the drizzle I dug a hole around a pole in our front yard and poured in some concrete. Our TV satellite is attached to it, and it is scheduled to be adjusted tomorrow. Its stability was destroyed in last weekend's winds.

Jesus eased his way out of the crowd's grasp, which for most of us would have been like the concrete around my pole. I don't think I would have survived that mob. Jesus' words seemed to make the people more angry than ever, but he walked right through their frantic hands.

The Bible says, "His time had not yet come." Jesus put his life in the hands of his Father, and his Father had more for him to do. Soon the grip of soldiers would restrain Jesus, then torture him and finally kill him. But not yet.

The disciples are frightened and angry. They have neither the power nor the prescience that Jesus has. Death could come for them as well. It could come at any moment when they are in the presence of their master. Oh sure, every day is an adventure: an adventure that seemed certain to end in prison or death. Why do they continue to follow this guy?

A few verses later John writes, "And many there began to believe in him." The words and the works of Jesus were moving mountains. They parted crowds and paralyzed murderous intentions. Men and women prepared to follow him into death if necessary.

Even the rocks themselves would not cooperate with those who tried to throw them. "The creation waits in eager expectation for the sons of God to be revealed ... hoping that it will be liberated from its bondage to decay and brought into the glorious freedom of the children of God" (Romans 8:19-21).

Cult leaders, who are sometimes powerful like Jesus was, eventually succumb to their own selfishness and pride. Jesus could have done that too, of course, but instead he put his life and words and works into the hands of his Father. His power was no less than the pure and true power of God.

Jesus, you are walking straight into the arms of Roman soldiers. They are waiting around the corner. Do you know what you're doing? Of course you do. But I'm scared. Hold me, Jesus.

";