God's blessing
Thursday, April 6, 2006
Psalm 105:4-9

Look to the Lord and his strength;
seek his face always.
Remember the wonders he has done,
his miracles,
and the judgments he pronounced.
He is the Lord our God;
his judgments are in all the earth.
He remembers his covenant forever,
the word he commanded for a thousand generations.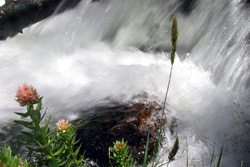 I don't take myself very seriously most of the time. Maybe if I wore a robe and carried the mantle of family, clan and race on my shoulder I could say words like these to my kids. It's Andi's birthday, she's 20 years old today, and I could say to her in solemn tones, "Remember the Lawd, thy Gawwd."

Well ... maybe not so much. But I do want her to know how God loves her. How much she means to him. How every step of her path through 20 years of life is directed by him. She means everything to her Father. And that's not just me. Not even mostly me. She means everything to God, her Father forever.

Andi graduated from high school last year, member of the National Honor Society. This year she's a University of Illinois freshman living in a Christian community called Stratford House, taking art classes, becoming more of the woman God made her to be. During spring break she joined a group of guys and girls (well, one other girl) to help put a roof on a new Habitat home in Bartlesville, Oklahoma. She didn't get much homework done.

Or did she?

Don't tell the people soon to move into their new home that she wasn't about her Father's business. Like the rest of us, Andi has 168 hours in her week, and she alone makes decisions about how to use those hours. How well does she listen to her Father?

I was a little boy. I loved my grandpa. We played in the sand together. He let me help him wash his car. Sometimes I spent the night with him in his big bed upstairs, kept company in the dark by the two black-dressed aunts frowning from oval frames above our heads.

I was overjoyed in my Christmas pajamas when Mom and Dad bought me a rocking horse for Christmas. My parents beamed. They didn't beam at everything I did, that's for sure. Then a few years later God made Margaret and I parents. So now we watch our children grow.

Just these few generations - maybe four, or finally five - that I will know. I kneel in awe and wonder before God, who "remembers his covenant forever, the word he commanded for a thousand generations." It is not just us, but her Father in heaven, who pours out on Andi today birthday blessings. Happy birthday, Andi.

Look to the Lord and his strength. Seek his face always. Remember the wonders he has done. Oh Lord, my rock and my salvation.

";