You are my all in all
Tuesday, April 4, 2006
John 8:23-31

Jesus said,
"You are from below; I am from above. You are of this world; I am not of this world.
"When you have lifted up the Son of Man, then you will know that I am the one I claim to be and that I do nothing on my own but speak just what the Father has taught me. The one who sent me is with me; he has not left me alone, for I always do what pleases him."
Even as he spoke, many put their faith in him.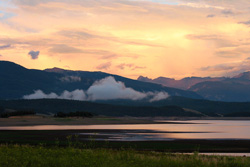 I put my faith in Jesus to lead me to his Father. Jesus is the only one I know who "always does what pleases his Father." That's what separates Jesus from the rest of us. He is not of this world. Satan, the prince of this world, has nothing on Jesus. Jesus doesn't taunt Satan but if he did, I imagine him shouting, "I can't hear you!"

Jesus is much more interested in listening to his Father than in not listening to Satan. He doesn't even think about Satan. As he fills his mind up with his Father, Satan is the farthest thing. And he doesn't think about himself. Jesus moved so smoothly through his life, speaking with wisdom and authority, healing with power, making no mistakes. Jesus saw no need to second-guess himself, because ... again and again ... he "only did what his Father was doing."

Jesus lived pure. And I want to follow him to our Father. Listen like he did. Live like he did, without doubt.

Jesus, you lead me in the way everlasting.

";