F.ace E.verything A.nd R.ecover
Monday, March 27, 2006
John 4:46-54

Jesus visited Cana in Galilee, where he had turned the water into wine. A royal official whose son lay sick at Capernaum went to him and begged him to come and heal his son, who was close to death.
"Unless you people see miraculous signs and wonders," Jesus told him, "you will never believe."
The royal official said, "Sir, come down before my child dies."
Jesus replied, "You may go. Your son will live."
The man took Jesus at his word and departed. While he was still on the way, his servants met him with the news that his boy was living. When he inquired as to the time when his son got better, they said to him, "The fever left him yesterday at the seventh hour."
Then the father realized that this was the exact time at which Jesus had said to him, "Your son will live." So he and all his household believed.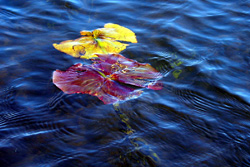 Maybe it's a high fever, maybe it's a fall. Maybe your kid doesn't seem to talk or walk or see or hear like she's supposed to. What fear fills your heart then?

We were on vacation. Margaret was shopping for groceries. Marc hit his head pretty hard on the corner of a dresser in the motel room. He was crying, and probably bleeding - I don't remember. What I do remember is the temptation I succumbed to ... saying to myself that what happened wasn't so bad; he'd be fine. We didn't need to go to the emergency room or otherwise be inconvenienced.

More than inconvenience, though, I just didn't want to admit there was something I couldn't handle. The alternative is fear, panic, terror ... or at least it seems that way. But how can I ask Jesus to heal my son if I don't surrender this false control? I can't even get him to the doctor! I put him in jeopardy because I was afraid.

In The Prophet Kahlil Gibran admonishes possessive parents: "Your children are not your children. They are the sons and daughters of life's longing for itself." If my son belongs to God, if my daughter came from Him and is going home to Him, I can't pretend even for a moment that I'm in charge. Then when danger comes, I won't hesitate to call out loudly to Jesus, "Sir, come down before my child dies."

Courage, Lord, comes to me in the midst of meekness: knowing what I cannot do. Convince me of my limits, and show me your power.

";