Free to love
Sunday, March 26, 2006
John 3:21 & Ephesians 2:8-10

Jesus says,
"But whoever lives by the truth comes into the light, so that it may be seen plainly that what he has done has been done through God."
Paul writes,
"It is by grace you have been saved, through faith - and this not from yourselves, it is the gift of God - not by works, so that no one can boast. For we are God's workmanship, created in Christ Jesus to do good works, which God prepared in advance for us to do."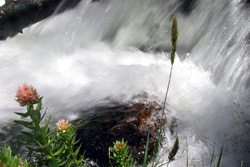 Richard Rohr, Franciscan priest born in Kansas in 1943, founded the Center for Action and Contemplation in Albuquerque, New Mexico. He speaks and facilitates retreats around the world, occasionally coming to Chicago:
(http://www.cacradicalgrace.org/aboutus/richard_road.html)
Rohr writes about this idea presented by Jesus and Paul:
People remain in a fear-filled and often infantile world, with a calculating mind toward God, not a surrendered, trusting mind. It is a less-than-mature understanding of reality.

Let's look at this from the positive side. It starts with the very concept of election, of being chosen--what's finally called covenant love. We hear about it in the Book of Deuteronomy: God says to Israel if Yahweh set his heart on you and chose you it was not because you were greater than other peoples. In fact you were the least of all the peoples. That's the theme.

Some friends once made a bumper sticker of this lifelong theme of my preaching: "God does not love you because you're good, but you're good because God loves you." Goodness is not something you achieve. I realize this more and more as I get older, that God does almost everything. The good things I've been able to do have always been a participation in who God is in me.

Did you ever notice in the Gospels that Jesus is not upset at sinners? He's only upset at people who don't think they're sinners. It's a very different world once you accept that. In other words, God's love or favor is a free gift--not something we earn. Why, Lord, why have you been so merciful and generous? It has nothing to do with my holiness, my intelligence, my goodness, my merit.

Let me tell you something: To allow yourself to be God's beloved is to be God's beloved. To allow yourself to be chosen is to be chosen. To allow yourself to be the blessed one is to be blessed. It's to believe it, to trust it, to allow it to happen.

And so many people will not be the beloved, they will not be the blessed, they will not allow and imagine that God could be using them in this moment. From our faulty perspective, we don't believe it yet because it's too much to believe it. No, we think, it has to do with being holy. We want to turn it around because it's the nature of the ego to hinge everything on our own, earned goodness.

Yet you'll never get anywhere with that! You have lost the power and the biblical revelation at that moment. Life does not hinge on your goodness, it hinges on God's goodness. You do good things because you are good, thanks to God's free gift.*
Your love, Lord, makes my love possible. Only that, nothing else, is the source of my goodness, generosity, gratitude, grace. Everything starts with you.
*From "God's Love is Free," in Catholic Update (http://www.americancatholic.org/Newsletters/CU/ac0402.asp

";