The greatest miracle
Sunday, March 19, 2006
John 2:23-25

While Jesus was in Jerusalem for the Passover Feast, many people saw the miraculous signs he was doing and believed in his name.
But Jesus would not entrust himself to them.
He did not need man's testimony about man, for he knew what was in a man.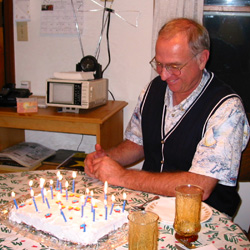 In Hamlet, Shakespeare wrote:
What a piece of work is man, how noble in reason, how infinite in faculties, in form and moving how express and admirable, in action how like an angel, in apprehension how like a god.
Jesus knew God better than Shakespeare did, and he knew men better too. He didn't see much they had in common. God is constant, men are flighty and two-faced. God has always lived and lives forever, men die and don't return. God's love is unconditional and complete, man's love is often tied to his own self-interest.

All the more amazing that Jesus (the man) cooperated with his Father in the plan to sacrifice himself and die for the men he knew so well. He didn't question the plan, extended forgiveness immediately, and invited us to become his brothers.

Because of what Jesus did I can "put on" my new self, become more like him, more like God. Shakespeare stretches the point, but following Jesus into and through death and rebirth does indeed change everything about me and the way I live.

Lord, you know me, you love me, you invite me to become like you. What a gift you offer. What a God you are!

";