Of father, faith and victory
Thursday, January 6, 2005
1 John 4:19-5:4
We love because he first loved us. If anyone says, "I love God," yet hates his brother, he is a liar. For anyone who does not love his brother, whom he has seen, cannot love God, whom he has not seen. And he has given us this command: Whoever loves God must also love his brother.
Everyone who believes that Jesus is the Christ is born of God, and everyone who loves the father loves his child as well.
This is how we know that we love the children of God: by loving God and carrying out his commands. This is love for God: to obey his commands. And his commands are not burdensome, for everyone born of God overcomes the world.
This is the victory that has overcome the world, even our faith.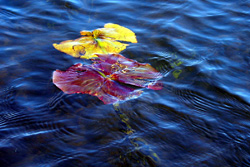 In the last years of his life my father was more peaceful than I had ever seen him. Mom said the same thing, and of course she was with him every day.

Dad grew up the oldest of four kids on an Illinois farm, went through the 30's and the Great Depression as a teenager and served as a World War II soldier. He graduated from the University of Illinois with a degree in business, got married and went to work. After I was born our family returned to the area where he grew up, around Lincoln. He decided to farm, bought dairy cattle, and worked hard after that for fifty years, pretty much every day of every year.

Pretty serious life he lived. We fought a lot, when he wanted me to work harder than I would. We didn't seem to have much in common. Then in the early '70's, while I was exploring every religion known to man, Dad went to a Kogudus retreat and discovered Jesus. Always a churchgoer, now he became a lover of the Lord.

The world he lived in prized hard work, success, pride and loyalty. Suddenly, Dad experienced deeper fulfillment in humility and surrender. He no longer thought so highly of himself, or his world. Burdens he had carried his whole life were lifted off him.

After he embraced Jesus Dad spent much of his leisure time listening and singing worship music and reading the Bible. He met every Saturday morning with other men who felt like he did. When I returned home we appreciated each other much differently than we had before.

We attended several retreats and conferences together, sang a lot, prayed together. He was quiet but smiled often. Although he still worked hard every day, he grew less and less driven.

Finally, by the time Dad's body collapsed around his spirit, it was evident to everyone that he had "overcome the world." I loved being with him by then, and when he died I loved singing with Margaret at his funeral. We sang his favorite song, "I'll Fly Away." Our joy overflowed.

Jesus, you put me in the world, and then you show me how to live, and then you come and take me home. Thank you for this good life.

";