Triage
Saturday, March 4, 2006
Luke 5:27-32

Jesus went out and saw a man named Levi at his work collecting taxes. Jesus said, "Come along with me." And Levi did--walked away from everything and went with him.
Levi gave a large dinner at his home for Jesus. Everybody was there, tax men and other disreputable characters as guests at the dinner. The Pharisees and their religion scholars came to his disciples greatly offended. "What is he doing eating and drinking with crooks and "sinners'?"
Jesus heard about it and spoke up, "Who needs a doctor: the healthy or the sick? I'm here inviting outsiders, not insiders: an invitation to a changed life, changed inside and out."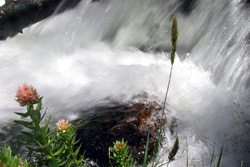 I no longer expect people who need Jesus to look for him in church. Too often they look at me with scared eyes and apologetic smiles. It�s just too intimidating to go into a place like that where people smile and think you should too, where people feel good about their lives and think you should too, where people praise God for their prosperity and expect you to, too.

What kind of hospital is that?

So Jesus left the church and walked the streets. Of course the ones who needed him were out there too, and they found each other � of course they found each other.

Hospitals are safer for the injured and the ill than churches are for sinners. The church is more like a doctor�s office, where we can go once we�re feeling a little better and pretty much out of danger. Then we can go get a checkup and a word of affirmation from the doc.

Nothing wrong with that, of course. All of us need checkups and tune-ups and affirmation and admonition. But I wish there was a place for people who are dying and suddenly realize they�re dying, for people who are sick to death of the way they live and want to change, for people who need Jesus.

Jesus found Levi -- or Levi found Jesus -- hard to say. But Jesus didn't take Levi to church; he went to Levi's party that night.

Lord, of course I don't want to lose track of where you are. I want to be with you. Or at least I say I do. Let me take my words seriously, and follow you where you lead me.

";