Resounding praise
Wednesday, January 4, 2006
Psalm 98:1, 7-10
Sing to the Lord a new song, for he has done marvelous things;
Let the sea resound, and everything in it,
the world, and all who live in it.
Let the rivers clap their hands,
let the mountains sing together for joy;
Let them sing before the Lord, for he comes to judge the earth.
He will judge the world in righteousness
and the peoples with equity.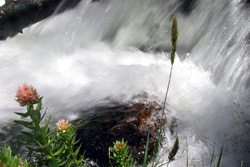 What did the rivers ever do wrong? What did the dirt do wrong? David's servants carried the sacred Ark of the Covenant to the palace, forbidden by law to touch it with their hands. But one of them tripped and Uzzah grabbed the Ark to prevent it from touching the earth.
Uzzah was struck down, killed that instant (2 Samuel 6). He made the mistake of thinking the dirt was less clean than his own hands.
Paul adds his bit to the budding science of biology in chapter eight of Romans:
The creation waits in eager expectation for the sons of God to be revealed, ... in hope that the creation itself will be liberated from its bondage to decay and brought into the glorious freedom of the children of God. We know that the whole creation has been groaning as in the pains of childbirth right up to the present time.
One way of stating the Second Law of Thermodynamics is that any system which is free of external influences becomes more disordered with time. The "system" of God's creation was influenced first of all by the "fall" of man, described in Genesis, and thereby subjected to a "bondage of decay" through no fault of its own.

With the coming of salvation through Jesus, as man is freed from death the creation cries out for its own release from bondage. Death loses its power in every living thing.

What a contrast to the raping and pillaging of nature we have tolerated, encouraged and accomplished for so long. In the Kingdom of God the seas resound, the rivers clap, and the mountains sing. They rejoice in the presence of God the King, the Creator, the Magnificent. And we lead them in their song.

Lord, this vision of the ways things are supposed to be, changes the way I see the world. Open my eyes even more, Lord.

";