Long slow journey of the spirit
Monday, January 2, 2006
1 John 2:28
And now, dear children, continue in Jesus, so that when he appears we may be confident and unashamed before him at his coming.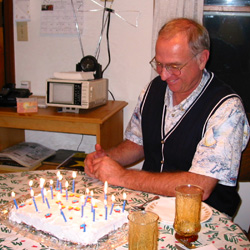 In the morning when I rise,
In the morning when I rise,
In the morning when I rise,
Give me Jesus.
On a visit to Willow Creek Community Church we heard Bill Hybels describe his early morning ritual, which begins with kneeling beside the bed before he stands up, his dedication to prayer in the midst of whatever tumult of thought he could otherwise have about his coming day.
This morning when I rise my mind is flying from idea to project to unfinished business to people and their needs ... I kneel beside the bed and have trouble finishing the Lord's Prayer without the thoughts plunging in. Some of my dreaming was intense and a little grim, and I Need to Do Something.
Taking a few deep breaths I realize that no, I don't need to do something. I get to pray, I get to continue in Jesus, I have the privilege of being confident and unashamedly Not in Charge.
Whatever things to do, and people to be with, and promises there are today to keep might bring me joy or pain or frustration or peace. Outside in the morning darkness I hear cars on rainy pavement, sluicing by. I'll be in one too. Driving on down the road.
My sister Mary and her daughters Amy and Kelsey came to visit yesterday. We played a balderdash-y game and talked about the meaning of onomatopoeia, the use of words which sound like what they mean. Bob Dylan wrote "Walkin' Down the Line;" he says,
My money comes and goes,
it rolls and flows,
and rolls and flows
through the holes
in the pockets of my clothes.
I love those words because they evoke my yearning for eternity, the roll and flow of life that never ends. They allow me to laugh at my earnest but futile determination to keep money in the bank, the wolf from the door, life on the up and up, the kitchen clean.

Margaret experiences deep pain sometimes after she cleans a room and makes it spotless. It just doesn't last. I get excited when we have enough money to pay every last bill and then some. And then it's gone.

Despair looms. I've watched three families grieve the loss of eighteen-year old children to suicide this winter. They were loved, but they felt alone in some desperate moment and ended everything. The demon of despair told them to and they listened.

This morning as the sun rises I listen to Fernando Ortega sing his simple songs, like "Give Me Jesus." Daybreak leads to sunset again today ... then on, through sleep and dreams and prayers and life, to the breaking of the dawn.

Give me Jesus, give me Jesus, you can have all this world, but give me Jesus.

";