Day by Christmas day
Wednesday, December 21, 2005
Psalm 33:11, 20-21
The plans of the Lord stand firm forever,
the purposes of his heart through all generations.
We wait in hope for the Lord; he is our help and our shield.
In him our hearts rejoice, for we trust in his holy name.
May your unfailing love rest upon us, O Lord, even as we put our hope in you.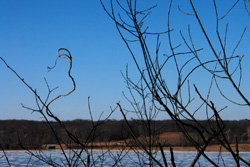 For me this makes 56 Christmases. All those many years ago I remember special gifts, like my first chess set and book about how to play, and Lincoln Logs, and a fabulous rocking horse. Pictures of Mary and John and I always show us in pajamas, and in the 8mm movies we're jumping up and down and up and down and up and down. No doubt screaming in glee. But those old movies didn't have the luxury of sound.

Coming home from college at Valparaiso University, I felt Christmas changing. Growing up away from home and coming back to where I'd been a child, I was out of place in Lincoln. The farm was beautiful to me one moment, and suffocating the next. I bet I was hard to live with.

The memories come flooding back when Margaret and I married, when Chris was born, when Marc was born, when Andi was born. Christmas became more fun than ever when we got to give the gifts. As a kid I had no idea.

Chris is married now to Melissa, and I still stuff their stockings with too much chocolate. Late on Christmas Eve (I guess it's early on Christmas morning) I watch the papal mass in Rome and break open bag after bag of those little candy bars. Chris says they are almost out of last year's stash.

There are some special gifts this year, for everybody, I hope. We'll eat oyster stew and shrimp cocktail and turkey, and play some games, and fill a big garbage bag with wrapping paper. I will marvel one more time at the stillness of the city streets on Christmas morning. And together we'll pray with joy and hope to Jesus, here yesterday, today, and forever.

Thank you, Lord, for Christmas celebration. For the lives we've been given to live. For living with us, Lord. For living with us.

";