Fathers and sons
Monday, December 19, 2005
Luke 1:14-17
The angel Gabriel to Zechariah (John's father): "John will be a joy and delight to you, and many will rejoice because of his birth ... And he will go on before the Lord, in the spirit and power of Elijah, to turn the hearts of the fathers to their children and the disobedient to the wisdom of the righteous - to make ready a people prepared for the Lord."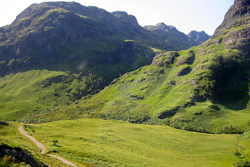 Two mothers, two brothers. Zechariah's wife Elizabeth was Jesus' mother Mary's aunt. Mary turned to Aunt Liz when she felt the Holy-Spirit-Baby inside her. She traveled away from her home town and told Elizabeth her story, who was already pregnant. Elizabeth didn't turn her away; she was very happy. They sang together.
Their babies were born within months of each other. As mothers they exchanged stories about their boys, questions and answers about raising them, and frustrations, no doubt, with their husbands.
In all these long sunny days of growing, God's preparation might have gone unnoticed but for the words given to Zechariah and Mary. Gabriel spoke to them both. The angel's words were clear to them both. God's hand was heavy upon their boys.
Zechariah was skeptical, so Gabriel made him mute until the day of his son's birth. This priest could no longer read the Torah to his people. But when John was born, Zechariah's tongue was loosed. He praised God, and he prayed to God, and he waited with joy for the day John would turn the hearts of the fathers to their children. His was turned already.
Kahlil Gibran echoes the words of Gabriel in his talk "On Children" (http://tyros.leb.net/gibran/):
They come through you but not from you,
And though they are with you, yet they belong not to you.
You may give them your love but not your thoughts.
For they have their own thoughts.
You may house their bodies but not their souls,
For their souls dwell in the house of tomorrow,
which you cannot visit, not even in your dreams.
You may strive to be like them, but seek not to make them like you.
For life goes not backward nor tarries with yesterday.
You are the bows from which your children as living arrows are sent forth.
The archer sees the mark upon the path of the infinite, and He bends you with His might that His arrows may go swift and far.
Lord as I grow ... loosen my grip on what I think I own. Let me hold the arrows you give me loosely, and see their path with your eyes.

";