"I am the Lord, and there is no other. Apart from me there is no God. I will strengthen you, though you have not acknowledged me."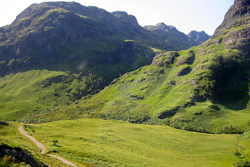 In his sermon on the Mount Jesus told his listeners to love their enemies and give them even more than they demand. Love the ones who hate you, he said. God's son speaks as does his Father, who strengthens those who fight against him.

Only one who is strong to his core can afford to strengthen his enemy. Love might transform a black heart; but what a risk the lover takes, that he will be defeated or killed before the transformation can take place.

Unless the lover lives forever. Unless the lover knows the blaggard better than he knows himself, because the lover is the source and creator of that temporarily black heart. Unless the lover is the Lord, and there is no other.

Small man-made gods punish their subjects. Not so God, of whom there is no other. The Lord who made me loves me. His discipline is part of the love; and if it feels like punishment to me, then I should open my eyes just a little bit wider.

Jesus lives and breathes God's purpose and focus on earth. He does not just do miracles - he breaks into Satan's kingdom and reclaims it for the one who made it in the first place. His words are not just wise - they change the nature of life on earth. And he turns everything I take for granted on its head.

Oh yes, Lord, you are the one. There is no one else. Open my eyes wide and wider, so I can see you.