Stamp of approval
Monday, November 28, 2005
Matthew 8:5-13
When Jesus had entered Capernaum, a centurion came to him, asking for help. "Lord," he said, "my servant lies at home paralyzed and in terrible suffering."
Jesus said to him, "I will go and heal him."
The centurion replied, "Lord, I do not deserve to have you come under my roof. But just say the word, and my servant will be healed. For I myself am a man under authority, with soldiers under me. I tell this one, 'Go,' and he goes; and that one, 'Come,' and he comes. I say to my servant, 'Do this,' and he does it." When Jesus heard this, he was astonished and said to those following him, "I tell you the truth, I have not found anyone in Israel with such great faith." ... Then he said to the centurion, "Go! It will be done just as you believed it would." And his servant was healed at that very hour.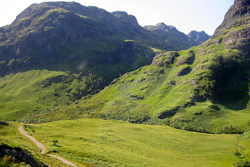 For far too few and fleeting moments in my life, I think like this guy. Throwing caution, logic, explanations and experience to the wind, I just let God be God. He's the center of the wheel, and I fit perfectly on the edge - rolling, rolling, rolling on the River. I know who He is, and He knows me.

In these epiphany-moments I am not in charge, and I am not afraid. Authority resides in the Creator, and I the Created exult in knowing my place. Not just protection but healing and victory follow me all these days of my life. All these ... moments ... of my life.

No doubt the centurion was a sinner. He lost his bearings just like I do. He swaggered sometimes, he panicked sometimes, more often than not he failed to find his orbit around the Father.

Jesus cared about none of this. He took the centurion at the peak of his faith and let him name it, claim it, and live in it. Jesus pointed out none of his failures and rejoiced with him in his servant's healing.

With this kind of unconditional imprimatur, Jesus equipped the centurion for his remaining days. I know that is what Jesus wants to give me too. And I want to receive it.

Jesus, you see me at my best, the way I was made to live, in step with God. Thank you for teaching me to see myself like that too.

";