Straight road living
Saturday, March 19, 2005
Psalm 89:1-2
I will sing of the Lord's great love forever;
with my mouth I will make your faithfulness known through all generations.
I will declare that your love stands firm forever,
that you established your faithfulness in heaven itself.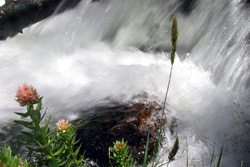 And to think that this psalm follows on the heels of Psalm 88, some of the most despairing verses of the Bible, which end:
From my youth I have been afflicted and close to death;
I have suffered your terrors and am in despair.
Your wrath has swept over me;
your terrors have destroyed me.
All day long they surround me like a flood;
they have completely engulfed me.
You have taken my companions and loved ones from me;
the darkness is my closest friend.
In his famous book The Search for Significance Robert McGee points out that because God has "accurate" thoughts, he also has "accurate" emotions. That's hardly the case for us humans. My thoughts are a mess of clear/unclear, rational/irrational, selfish/benevolent, more or less logical attempts at understanding "my" world.

God made the world and everything in it, and of course he understands it. On the other hand, what I claim as "mine" really belongs to God. And as he says so clearly in Isaiah 55, "My thoughts are not your thoughts."

In my merry-go-round-perspective I can live out Psalm 88 one day and Psalm 89 the next, climbing mountains and descending into valleys of emotion. This does not reflect the consistency and faithfulness of God, my maker and my redeemer. I marvel and am so grateful for his patience with me, while I greet darkness as an old friend one day and ride a rainbow above the clouds the next.

I wait, Lord, for your thoughts to direct my paths. When I step out too soon, slow me and turn me.

";