Living in God's world
Monday, March 7, 2005
Isaiah 65:17-25
Behold, I will create a new heavens and a new earth.
The former things will not be remembered, nor will they come to mind.
But be glad and rejoice forever in what I will create,
For I will create Jerusalem to be a delight and its people a joy.
I will rejoice over Jerusalem and take delight in my people;
The sound of weeping and of crying will be heard in it no more.
Never again will there be in it an infant who lives but a few days,
or an old man who does not live out his years;
He who dies at a hundred will be thought a mere youth;
He who fails to reach a hundred will be considered accursed ...
For as the days of a tree so will be the days of my people ...
They will neither harm nor destroy on all my holy mountain.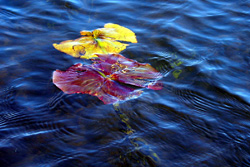 Potential Christ-followers sometimes get scared away by the endless list of things they're not supposed to do. God's list is pretty long (just look at Leviticus). Christian evangelizers often have their own long lists. And most of us know ourselves well enough to think we have a lot to change if pleasing God becomes the priority.

But just as I eat when I'm hungry, not when I'm full, so also I go to God when I'm empty, not when I'm whole. He desires love and repentance, not sacrifice; and as David writes in Psalm 30, "His anger lasts only a moment, but his favor lasts a lifetime." What's my response to that? My "weeping may remain for a night, but rejoicing comes in the morning."

Normal Christian life runs full of sin, suffering, remorse, repentance ... and rejoicing. Mostly rejoicing. Because God's new heaven and new earth, under construction in me, is a construction project he will never abandon. No cost-overruns here. God spends all he has for his children.

It's morning again, Lord. Open my eyes to your faithfulness and to the beauty of all you survey.

";