More than survival ... more than conquerors
Wednesday, March 2, 2005
Matthew 5:17-19
Jesus, at the beginning of his "sermon on the mount":
"Do not think that I have come to abolish the Law or the Prophets; I have not come to abolish them but to fulfill them.
"I tell you the truth, until heaven and earth disappear, not the smallest letter, not the least stroke of a pen, will by any means disappear from the Law until everything is accomplished.
"Anyone who breaks one of the least of these commandments and teaches others to do the same will be called least in the kingdom of heaven."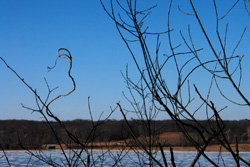 The Pharisees set the standards for do-right in Jesus' Jewish culture. But Jesus says "unless your righteousness surpasses that of the Pharisees you will certainly not enter the kingdom of heaven."

It's a good thing God's forgiveness is unconditional and everlasting. Without God's ever-present grace, his unchanging justice would destroy me utterly. Jesus brings the kingdom of heaven to the people of earth not by reducing the requirements of the law but by increasing the covering of grace.

So as I notice my ubiquitous selfish spirit rearing up again and again, and I know once more how sinful I am, I must keep on seeking forgiveness. As David said in Psalm 51, "Against you, and you only have I sinned." I dare not shut my mouth in self-pity or shame. Daily, I am guilty. Daily, I need God's forgiveness. Daily, I must say so.

Otherwise I eventually lower my standards to those of the world around me. I do this simply to survive my own shame. It's ironic but true that when I hate myself for my sin I end up sinning more than ever.

Who will rescue me from this body of death? Thanks be to God - through Jesus Christ our Lord!

";