Sweet surrender, sweet dreams
Friday, December 28, 2001
Psalm 124
If the Lord had not been on our side...
the flood would have engulfed us,
the torrent would have swept over us,
the raging waters would have swept us
away...
Our help is in the name of the Lord,
the Maker of heaven and earth.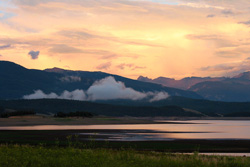 My friend Jack Ludwig died at 1:50 pm on Christmas Day with, as Pastor Meyer said at his funeral, his family "praying him out." Sometimes death at Christmas leaves a nightmare memory for the ones left behind; that happened to me as a child when my best friend's dad died suddenly before Christmas.
But Jack's family had time with him, and they said he kept sparkle in his eyes for them, kept on winking his own special wink, still smiled when they whispered their hellos ... and goodbyes.
Jack wanted his friends and family to have sweet dreams. On Christmas Eve, visions of sugarplums, and then the next day, pictures of being "Home for Christmas," which is just what his memorial card read. Inside he wrote, "The most important decision in the life of any human is the choice they must make in regard to their personal faith in Jesus Christ."
Together we spent countless Sunday nights and weekends at prisons all over Illinois. Jack's heart was huge. But he didn't just ache for hurting people; he helped them. He told jokes that opened their hearts, and stories that touched and sometimes broke them. A few yeas ago he told me a story that broke my heart, of when he held his mother as she died. The retreats he organized were filled with Jack-touches, but mostly I remember his smile, his sparkle, and his song.
Jack sang. Barbershop quartet, church choir, mixed quartets, solos ... Jack always sang. His funeral today was full of song, tight gospel harmonies echoing over his casket, "There is a Fountain," Search Me O God," "The Old Rugged Cross Made the Difference."
Behind the banks of flowers, behind the casket, the nativity scene remained in place, full of Jesus. God's angel Gabriel blew his golden trumpet below the star. Pastor Meyer relit the advent candles, the Christmas candle.
The Martin Luther Men's Chorus sang the benediction, "May the Lord hold you in the hollow of his hand till we meet again."
And Jack's daughter Laura sang,


"The trump shall resound
and the Lord shall descend
even so, it is well with my soul."
She held the last note as long as she could, singing it for her dad.

";