Time after time
Wednesday, February 23, 2005
Psalm 31:5, 14-15
Into your hands I commit my spirit;
redeem me O Lord, the God of truth...
I trust in you, O Lord;
I say, "You are my God."
My times are in your hands.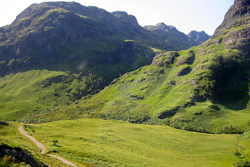 There are 168 hours in a week, that's in every week for everybody. I structure them and plan them; I even like to plan my weekends.
Not everyone wants to do this, I know. Many people chafe and complain over plans of any kind, especially for their free time. The same structure that liberates me puts them in bondage.
Whether I plan it or not, as I give it to him then God takes my time and makes it good. The old Latin "carpe diem," (seize the day) is something God does effortlessly with the time he has created, and then he gives it back to me. God's trustworthiness thereby allows me to trust myself, as Richard Rohr points out:
Apparently no one has told many Christians they could trust themselves. What an unsafe and unexciting world we have created. Jesus tells us in the Gospels, "Don't be afraid." He is saying it is radically okay. You can trust yourself because God trusts you, using your journey, your experience. Nothing is wasted; all is forgiven. Nothing will be used against you. In fact, God will even use your sins to transform you! ...

If that's not good news, what would the good news be? What else would be good except that kind of freedom, that kind of spaciousness, that kind of embrace from God that says your life matters. Your journey matters, and God's covenanted love toward you is always unconditional.*
Lord, as the sun rises and sets, you are faithful and true. And you give me confidence to be faithful too.

* Richard Rohr from Everything Belongs, as quoted in "Living Faith Devotions," Jan-Mar 2005

";